Customer Experience in Action – 2014 Benchmark Study Results  
The Customer Experience in Action Study explores organizations' commitment to Customer Experience and Strategy Execution – and the impact it delivers. The 2014 study includes Strativity's new Maturity Assessment Model, developed as a guide for organizations to evaluate their progress on the CE journey across five core CE components: Customers, Employees, Strategy, Measurement and Organization.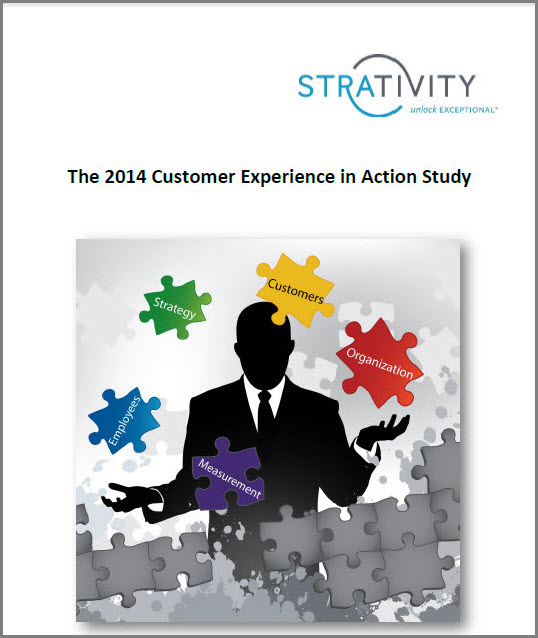 Over 80% of Global Companies we surveyed feel that Customer Strategies are more important to organizations now than ever, but the majority of companies do not operate with economics driving their strategy.
76% do not know their customer acquisition cost
83% of executives don't know the cost of a customer complaint
Click here to download the executive summary. 
To obtain a free maturity assessment, or to receive the full report results, please contact us info@strativity.com or (201) 808-8500.
---
Enter to Win a Free Workshop on Customer Experience Management  

Click here to enter to win a free Strativity CEM workshop for up to 40 people.
Clicktools, a Strativity partner, is running the promotion.
Clicktools believes that the "customer knows best." Back in the day, personalized service was the only way of doing business.
Today's customers still long to be known and appreciated, but technology can get in the way.
Discover instead how to leverage technology – like with Clicktools surveys that integrate with CRM – to better understand and delight customers.
The winner will be announced by June 13, 2014. 
Customer Experience Management Certification – Register Today 

Customer Experience isn't a nice to have. Leading companies don't invest in the experience they deliver because they are philanthropic. Companies that invest in Customer Experience are rewarded with greater customer loyalty, which translates into great profitability.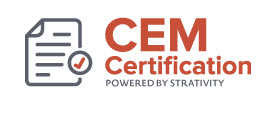 Get Customer Experience Management Certified at one of our upcoming CEM events! 
October 21-23: Orlando, FL
November 11-13: London, UK
 
---
Thank you for your continued support. 
– The Strativity Team